The core management team of GNS comprises of executives who are respected in the industry for their rich experience and expertise in the global IT market. The success of GNS is their pride as well as achievement. They work cohesively with the sole aim to flourish and grow GNS while contributing the best to the advancement of global IT industry.
Mahesh Kulkarni
Founder and Managing Director
Information Technology professional and business visionary with over 23 years of experience in various industries such as manufacturing, trucking, logistics, retail, healthcare, banking and finance. Managed, local and global development teams at different key customer engagements delivering customer based solutions. He resided in the US for around fifteen years and has a Masterís Degree in Computer Science from Minnesota University, Minnesota, USA. He has successfully executed various projects related to legacy systems (IBM AS/400), Microsoft applications, Mobile and Web development. Under his inspiring vision, leadership and exceptional abilities, GNS has grown in strength and ability and created an enviable employee friendly environment.
He has participated in business strategy sessions with various business executives to recommend right reporting tools / solutions. He has also successfully helped build a hybrid on-site / off-shore model to deliver critical key components at various client sites in the US.
He was a founder member of major IT Solutions Company in USA and set up operations in US and India with resource strength of more than 100 employees.
He has an extensive experience with offshore project management / on-site co-ordination. This has successfully helped various companies around the globe increase their productivity, reduce costs, and mitigate risks through successful implementation of data management and offshore and dual shore projects.
He is currently serving as a member on the board of Education for a renowned university in Pune and has helped design the syllabus for a major college engineering board in Pune, India.

Sunita Kulkarni
Founder and Director
Mrs. Sunita Kulkarni has a significant experience in financial planning and resource management. She resided in the US for around ten years and has an MBA in Finance and International Business. This finance and business management background helped her to be a founder member of major IT Solutions Company in USA and set up operations in US and India with resource strength of more than 100 employees.
Major companies have benefited by her expertise in financial analysis and MIS consulting. She has a vast knowledge and expertise in preparing different financial models and non-financial qualitative analysis for many multinational companies. She has prepared business plans (financial) for clients from varied industries (from manufacturing to service industries). She has prepared the projections by considering client's future revenues and cost estimates to make the models realistic and these models have helped clients estimate the future funds needed and manage cash flows effectively. She formulates strategic and long-term business plans and develops financial management mechanisms to minimize financial risk.
Apart from financial planning and resource management, Sunita is actively involved in business development, operations and building customer relations. She manages various IT projects for GNS customers. She has actively participated in building a hybrid on-site / off-shore model to deliver critical key components at various client sites in the US.
She is always determined to develop the best product functionalities and create solutions that satisfy and exceed client expectations for project enhancements, new development and support.
Anand Khekale
Practice Director (Legacy Systems / BI)
Anand Khekale brings a significant experience to GNS in various areas of Information Technology. His fourteen successful years of IT experience includes delivery management, project management, system analysis and business impact analysis. Anand constantly ensures that his managers and teams adhere to appropriate methodologies and consistently utilizes industry best practices to accomplish assigned work product. He provides strategic leadership in staffing complex engagements.
Technically, he has experience in application development and maintenance on IBMi (AS/400) which includes hands on experience on Fidelityís ACBS, Clearance and Collateral Management System, ISIS (Fixed income Settlement Engine), SunGardís GMI (Back office accounting system), MOVEX, J.D. Edwards and a variety of custom applications and third party software packages available on the AS/400.
Anand was in UK for few years working for a largest US bank in its development center at Glasgow and travels frequently to US for requirement gathering, client discussions and business development. Anand has been instrumental and is a great asset for every project that he executes. He always ensures that the product is delivered with the highest customer satisfaction and never hesitates to go the extra mile for smooth and efficient project delivery.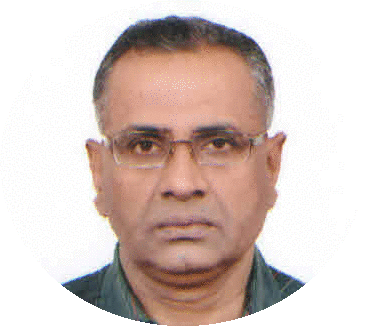 Madhusudan Keskar
Practice Director
Madhusudan Keskar brings a rich and varied experience of over 30 years to GNS. His vast experience is a combination of technical, operational and business management skills
His wealth of knowledge involves providing solutions in emerging technologies across industry segments such as Healthcare, Insurance, Supply Chain and Retail. He has an extensive experience in running complex businesses, technological transformation programs and delivering business outcomes to customers.
Madhusudan has worked at different locations to gain experience in working with and handling different types of clients. He has travelled and worked on multiple assignments in various states of USA. Some of the other countries that he worked in the past are UK, Germany and Belgium. He has strong client facing abilities and possess strong people skills. He has lead and supported business development activities such as identification, proposal development, and other pursuit activities at clients. He has demonstrated exceptional ability to build and lead off-shore teams of various sizes in delivery of services to the customer.